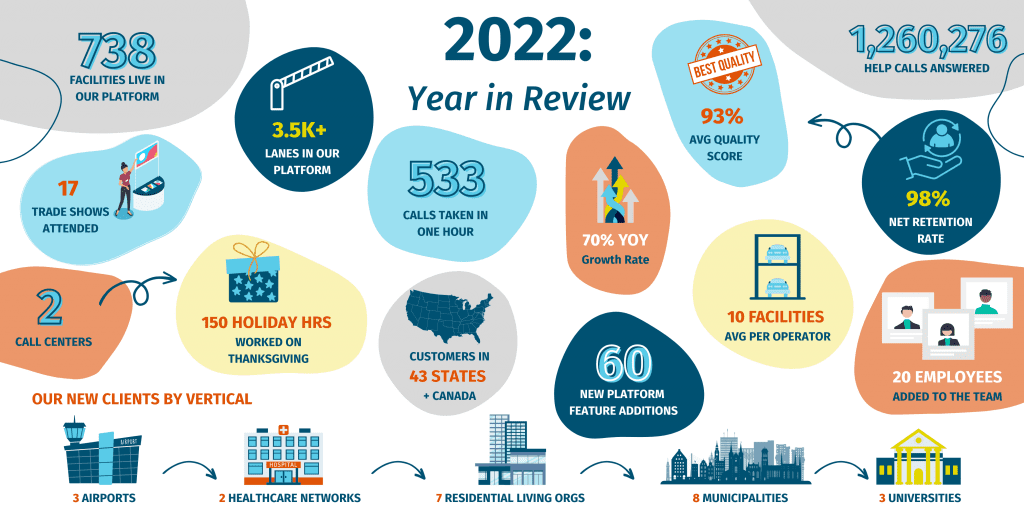 2022 has been a year of tremendous growth on many fronts.
We are excited to share our biggest achievements and give a sneak peak into 2023!
As the world continued to return to in-person activities, the parking industry experienced a welcomed surge in business. That surge challenged us all to leverage technology and people in innovative ways, despite real and significant labor shortages.
As we celebrate the many positive changes to our business, we look forward to an even better 2023!
2022 By the Numbers
In 2022, Parker Technology accomplished…
Over 735 facilities live in our platform
1,321,590 help calls answered by our call centers
2 active call centers: Indianapolis + Las Vegas
43 states & Canada
70% YOY growth rate
55+ new customers
Top 10 Publications of 2022
Here are our highest performing articles and blog posts from the past year…
Lessons We've Learned
The parking and mobility industry is always growing and evolving and we try to grow with it. This year has been a year of tremendous growth not only for us, but for the industry as a whole. New and old faces have come and go, in-person events started up again, new technology has been launched, and much more. With this growth, there are many lessons to learn and grow from.
Here are our top 3 lessons we learned this year:
Staying ahead of the curve is top priority to constantly feed growth. Key hires at the right time helped feed the growth problem.
Resources invested in proper training and onboarding pay for themselves 100x over.
Stay curious one second longer…assumptions as to why something is the way it is or as to what information a person has on a topic are often a cause for confusion.
2022 Highlights
New Feature Launch: Mobile Suite
In recent years, just about every industry has fully adapted to the digital age. We now can do just about anything from a mobile phone, including paying for parking. Unfortunately, sometimes things can go wrong with technology or patrons have trouble understanding how to use it. We've created two new solutions that can solve this problem.
Platform Innovations
We have big plans for 2023! Our team is working hard to develop new platform innovations that will continue to help our clients and their customers. So far, we have several new innovations either in progress or that we're planning on rolling out in the next year:
APIs: We continue to work with industry leaders to integrate systems and empower the CSRs using the Parker Platform with a single pane of glass for helping motorists in the lane.
AI / Machine Learning / Bot: We are starting to look into technologies to see if there are ways they can be utilized in our codebase and platform. We recently leveraged a partnership with Authenticx to begin the journey of infusing AI/ML into our business, starting with automating quality assurance, with an eye toward automating the handling of ghost calls in the future.
Reporting: We are looking into tools to help utilize the data in the platform.
Quality Assurance: We have introduced a new partner in Authenticx. The new Authenticx platform randomizes calls, so our team can't tell which facilities they are reviewing. The system tracks how many calls we've watched and reviewed and how many calls were taken for specific garages. We will be looking into new ways to integrate the technology and enable all platform users to access their tools for maintaining quality in their teams.
$2.2 Million Capital Raise
In July, we announced a series seed round of $2.2 million, led by Elevate Ventures and several other investors. The influx of capital has been and will continue to be used for accelerating sales and marketing and scaling operations to support our brand. This capital will support our ability to sustain high growth and maintain the quality and innovation we're known for. Read More Here
Team Growth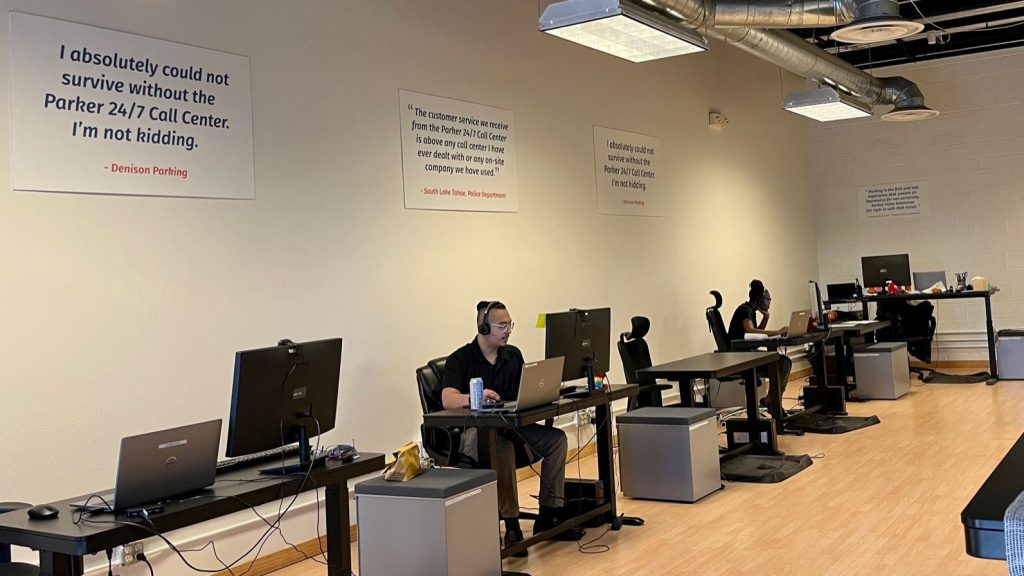 One of our biggest accomplishments this year was opening a second call center in Las Vegas. The Las Vegas call center officially opened in May and can now take any and all calls we receive. We'd like to give a huge thanks to Tammy Baker and Mona Rodriguez for leading this project!
We've added several new members to our team this year and true to form, those individuals have done what every great new employee does at Parker. They rolled up their sleeves, got to work and "disappeared" into the fabric of our business! Meet Our Team
Trade Show Season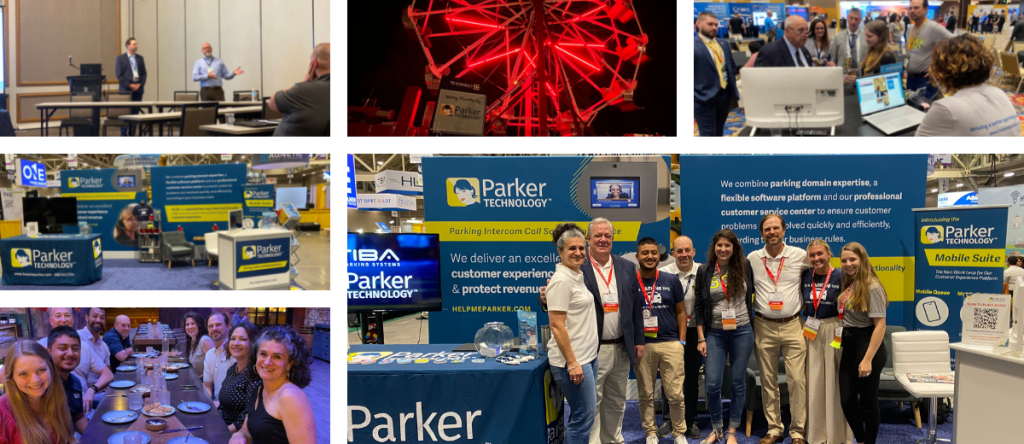 We had a great time and have many fond memories from the 17 trade shows we attended, and are looking forward to seeing many of you again next year. Thank you to everyone who stopped by our booths at the 11 trade shows where we exhibited. You made the 2022 Trade Show Season very memorable.
Here are our top memories from the 2022 Trade Show Season:
The Parker Happy Hours in Reno, New Orleans + Austin
Connecting with everyone during exhibitor hours each day
Demoing and highlighting Mobile Suite in our booth
Seeing all the latest industry innovations
Dancing with many of you at various vendor parties
Sponsoring the ferris wheel at T2 Connect
Meeting new friends and developing new partnerships
Check out the trade shows we're attending this year >>
NPA's 40 Under 40: Heidi Barber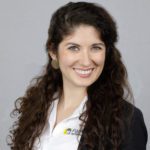 We were so excited that Heidi Barber, our VP of Marketing & Sales Ops, was inducted into NPA's 2022 Class of 40 Under 40! Heidi has proven that she is hardworking, innovative and a great asset to our team and industry. This was a huge achievement for her and we are so happy to celebrate her. Learn More
Looking Forward into 2023
2023: the year of partnerships. How can we help and what do you need?
As we continue to grow and new people are exposed to our platform and services, we will be introducing new ways to reach our client base. We want to know how you are utilizing us and how we can make that experience and the data from it as beneficial as possible. If you have ideas or thoughts, please reach out. We want your voice to help inform our growth and expansion!