We live in a fast-paced world where everyone wants their information and solutions at the push of a button. Whether we are at home, in the office, or in our cars – we want the illusion of being unencumbered by face-to-face interactions, but also want immediate customer service and results as soon as a problem arises.
Whether we want to admit it or not, people still need people. Automated parking facilities are great until something goes wrong. Sometimes equipment malfunctions or a driver gets confused by how to use it. Whatever the case, no one wants to get stuck waiting for help to arrive. With Parker Technology, we give people exactly what they want and need – an efficient automated parking solution with customer service help at the push of a button. Our virtual ambassadors provide on-demand service so drivers can quickly pay and get on their way.
Parker Technology: Integrating Seamlessly with Your Existing System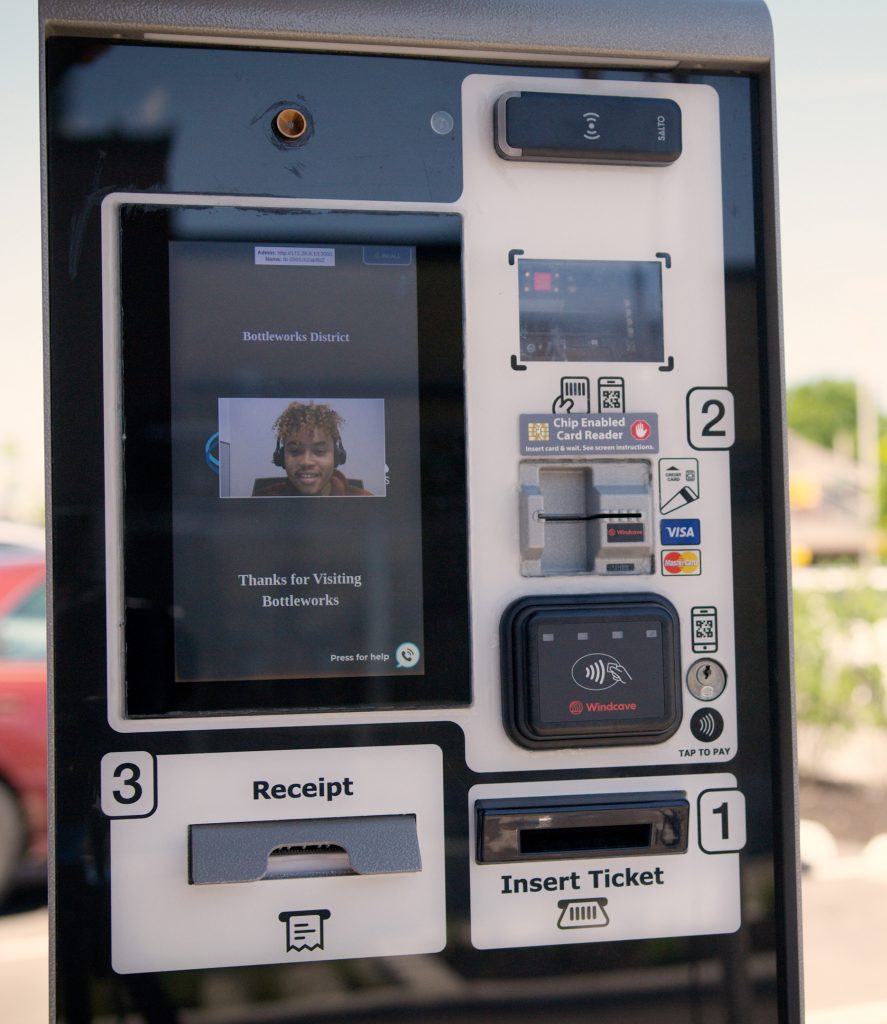 On-demand customer service technology is great, but what's the point if it doesn't work with your equipment? We get it – no one wants to waste money on a shiny new product when they've got a perfectly good system already in place. That's why we've designed our technology with existing equipment in mind. Our solution is flexible and can work with any PARCS equipment. Together with our dealer network, we coordinate a smooth installation process for all our customers.
Our service is live in over 1,200 lanes already, spanning a wide variety of PARCS equipment. We aim to be the customer experience platform of choice for the parking industry, and that means working with pre-existing systems. If seamless integration is what it takes to bridge the gap between our clients and their parking guests – to provide a human connection when it's needed most – then we're all in. We get along well with others!
Parker hardware has two forms for answering intercom calls:
Audio-only units that are typically installed in entries or monthly only lanes.
Two-way video intercoms that come integrated with TIBA X60, Flash and Amano OPUS, or a bolt-on solution for any other brand of PARCS equipment. These are generally installed in the exit lanes and at POF devices as the transaction is what most often results in the need for a call.
In round numbers, 70% of our calls come from exit lanes, 15% from the POFs and 15% from entries or monthly lanes.
Parker hardware integrations:
TIBA: We have an API integration with TIBA X60 machines, which includes a control integration and audio/video integration. We also have X30 audio-only integration.
Flash: We can answer intercom calls from Flash kiosks – either two-way video screenshare or using their own audio-only intercom. We also just completed our Flash API integration.
Amano Opus: We can integrate our two-way video intercom with Amano Opus equipment, where a video brain is installed. It will show up as picture-in-picture on Amano's existing video screen on the unit.
SIP: We can take SIP intercom calls from existing intercoms as audio-only calls.
Third-party: We can take third-party dial-up intercom calls. If the intercom dials a number from the garage, we can reprogram the number dialed to land on our platform.
Others: There are some intercoms, like Stentophon, that have different types of intercoms – some we can work with and some we cannot. Each system is unique, and we would need to get a tech services rep involved to evaluate if the specific intercom is compatible with our platform.
Frequently Asked Questions
Q1: Do we have to have video?
No, you can do audio-only. Our solution is compatible with most intercoms and can work with any PARCS equipment. See our compatibility guide for more information.
Q2: Why would I use two-way video?
Two-way video allows customer service representatives to offer more nuanced and efficient assistance, and customers are afforded an added personal touch of face-to-face interaction, even in automated garages.
Q3: Can we use our hardware?
Our technical services team can work with you to determine the best solution based on your existing equipment, budget and timeline.
You've Got Problems – We've Got Solutions! Let Us Help You.
Whether you're dealing with broken gates and malfunctioning systems, customer frustration and dissatisfaction, or even lost revenue – we can help! Why waste resources placing extra staff in your garage when you can offer live virtual customer support on-demand?
Contact us today for solutions that fit your needs!