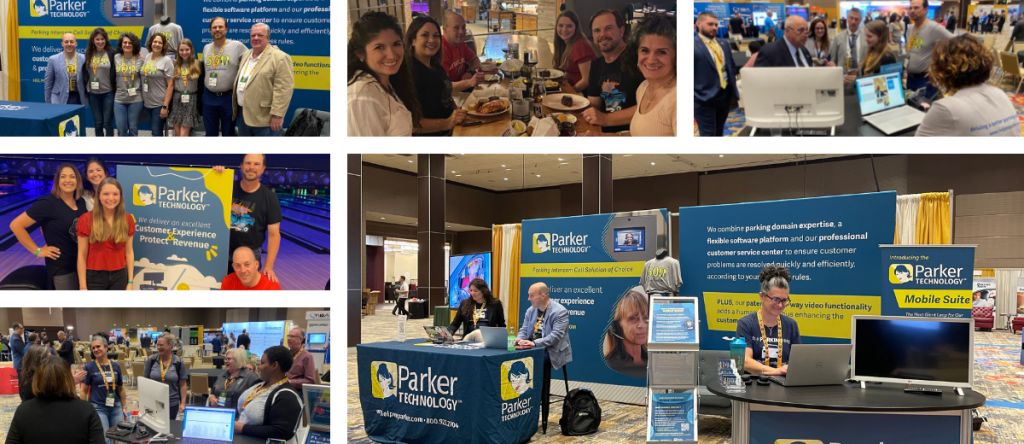 Trade shows and conferences are essential when staying connected with old friends and meeting new partners. The Parking Industry Expo was a great way to connect with other members of the parking industry and learn more about changes and innovations in the industry. It was a way we could all spend time together and catch up with what we've been doing over the past year. This year, I got to see it from a fresh perspective.
PIE 2022 was not only my first parking industry trade show, but also my first time attending any trade show. My expectations did not live up to the reality. PIE 2022 was more than I could have ever imagined. It was more fun, busy and rewarding. Even though I felt like I didn't have a second to relax, it was one of the best work trips I've been on. I had so much fun learning more about the parking industry, connecting with my team and meeting new friends.
There is so much that I have learned from PIE, but three takeaways stand out to me: the robust parking services provided, ease of meeting new people and finally, the benefit of attending sessions.
Parking Services
The first surprise I had while at PIE 2022 was the number of different parking services available for customers. Before I started working at Parker in January, I didn't know there was a parking industry. And even after I started, I didn't realize how big the industry is. The parking industry is huge and has almost anything a parking operator would need to effectively run their operation.
The services provided in the parking industry are not only robust, but innovative and automated. There are many unique solutions I would have never believed would be used for parking. An example of that would be setting up reservations for parking spaces. I wouldn't have known that was an option had I not gotten involved in this industry. This solution is incredibly innovative and beneficial when used in a busy garage or other parking facilities.
I am and continue to be surprised by the vast number of services provided and how each company innovates them into something entirely new and unexpected. I'm looking forward to seeing what new solutions will be launched over the next few years and how they will help parking operators.
Meeting New People
Going to a trade show with over 500 attendees, and only knowing 6, was extremely daunting to me. I am an introvert through and through, so I was extremely nervous to meet all these new people and parking industry experts. The day before I left for PIE, I gave myself a pep talk and put all my energy into meeting other attendees and enjoying my time there.
I was pleasantly surprised by how easy it was to talk and meet with people at the show. Everyone was genuinely kind and wanted to get to know who I was since I was a new face. I found it easy to talk with everyone and eventually got confident enough to walk up to someone I didn't know and introduce myself. From this trade show, I can already tell that the people in the parking industry are fun, energetic and easy to talk to.
It was also very interesting to see that almost everyone knew everyone. It was rare to meet two people who did not know the other, whether through a very brief meeting or a well-established friendship/partnership. This was very welcoming because it felt like a large family that genuinely cared about the success of the other.
Before leaving for PIE, my team told me that parking people were LOTS of fun, and after experiencing it, I can say for certain that is true. I have never laughed and had as much fun as I did at PIE. I am incredibly grateful for the experience and will use that to continue immersing myself in this industry.
Attending Sessions
For someone who just graduated college and spent the last four years in lectures, I wasn't sure if I would enjoy sitting in the various sessions. However, I couldn't be more wrong. The sessions I sat in gave me a better insight into the industry and taught me so much. I learned about the pros and cons of having technology, why parking isn't free and about innovations in the industry.
These sessions gave me a deeper look into the industry and the importance of parking. People may not think that parking is important, but it is. It is something most people take for granted and don't realize how much goes into it. I'm glad I went to numerous sessions and learned from parking experts. I am excited to attend more at future trade shows.
Overall, PIE 2022 showed me how essential the parking industry is. PIE opened my eyes to all the parts that play together in the industry and how it impacts daily life. It's so important to have parking go as smoothly as possible because customers expect it. They want to get in and out without any issues, and if there is one, it's an inconvenience.
I'm looking forward to attending more trade shows this year and broadening my understanding of the parking industry. I'm sure there is much more that I still need to learn. My next stop is IPMI in New Orleans. I hope to see you there!
See the full list of trade shows we're attending this year here.