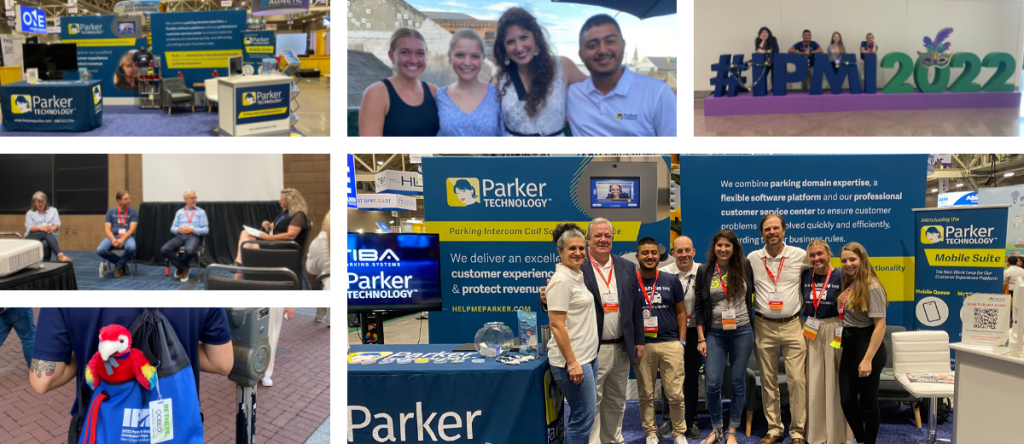 Even three weeks after the IPMI 2022 Conference, it is still difficult for me to adequately voice what an amazing experience I had in New Orleans! I loved having the opportunity to dive straight into the parking industry with thousands of other parking professionals. From PARCS providers, to innovative data solution software companies, to a massage chair in the booth right next to us, there was a lot to see and do – and frankly not enough time to see it all. Within the expo hall, I learned more from key players in the parking industry, and even got the opportunity to have a brief conversation with IPMI's Executive Director David Onorato, CAPP. I felt welcomed by my peers, and never felt belittled by those with much more experience, which is not the experience that all my friends have at their jobs. Parking people are fun and they are welcoming to say the least!
Since this was my first parking conference, I was both in awe and in shock to see how much there still is for me to learn. I had never helped promote a company at a trade show, but am glad to have done so for Parker Technology. I observed how my team described our company's value and how they exemplified excellence in communication by striking up a conversation without hesitation. I also witnessed their ability to remember SO MANY NAMES! Although this skill is still a work in progress, I was thrilled to finally be able to put some faces to names. I'm most excited to reconnect with some of the attendees at future conferences.
Although I may be biased, I think the best part of the entire trip had to be the Parker Speakeasy! While at Mambo's, we hosted over 70 guests and I had personal conversations with most everyone. The food and drinks were great, but the atmosphere is what blew me away. I recognize that introductions are a fundamental first step in relationship building, and there was no shortage of introductions that night. Whether it was current or future customers, I was always greeted with a smile and a firm, but welcoming, handshake. I was even able to sit down with representatives of a municipality and discuss a potential deal. Negotiating face-to-face for the first time in my role was daunting, but also exciting!
This was also the first opportunity for me to have a more personal interaction with the rest of the sales team, which is something that I don't take lightly. Being able to create a meaningful relationship with Ryan and Scott (and the rest of the Parker team) was truly an invaluable benefit of IPMI. Team dinners were something I always looked forward to, as I knew it'd give me a better insight into the Parker team. Being a smaller company, I was able to interact with almost everyone in the C-suite, which helped ease my mind, as I felt a bit of impostor syndrome. I cannot wait to continue learning about each other, and continue growing professionally as Parker Technology grows.
LEARN MORE about the Parker Team and company culture here, or find our 2022 trade show calendar here.