Celebrating one year of serving Radisson Plaza Hotel and their parking guests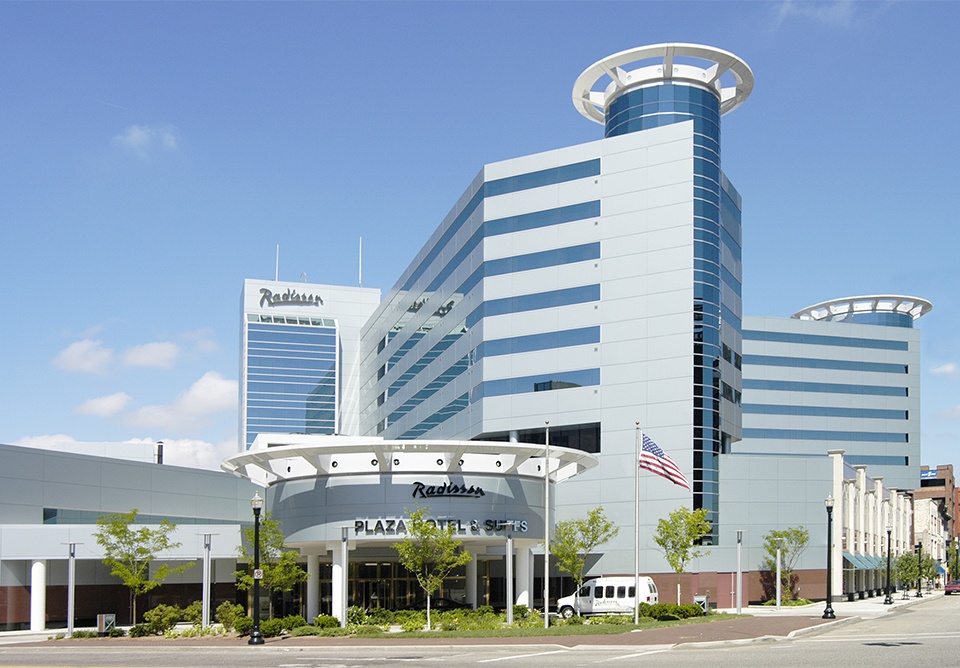 Below, Radisson Plaza Hotel Guest Experience Manager, Katie Hallup, shares her experience with our team, and the impact our solution has made on customer experience, staffing strategy, and revenue collection.
We are in the hotel business, so customer service means everything to us! The reputation of our hotel lives or dies by customer service. We work hard to make sure that all team members throughout the hotel are helpful, kind and accommodating to our guests.
Our parking garage is attached to the hotel. When we first considered a third-party intercom help system, we were obviously a bit nervous. We want a high level of service in the parking garage, as we do throughout the rest of the property. When we first signed on with Parker Technology, we immediately saw that customer service is a huge priority for them.
I manage the guest experience in our hotel, and all complaints come to me. I can rest easy at night knowing that whether our guests are speaking to an employee in the hotel or ringing the buzzer and speaking to a Parker Technology customer service representative, they will still experience the same high level of care and customer service.
We have all different kinds of parkers using the garage: employees with employee passes, monthly parkers, hotel guests who use room keys to enter and exit the garage, special event guests, restaurant guests, etc. Thus, there is a lot of information and different scenarios to remember, which is not an easy feat.
We used to have our staff at the hotel front desk answering parking intercom calls, and it was so hard and demoralizing for our team. More often than not, our team was just opening the gate. We didn't have the time to walk each guest through the process of how to pay, so we were opening the gate each time, and losing a significant amount of revenue.
Parker Technology has paid for itself many times over simply in terms of collecting revenue at the parking gate. They do everything possible to collect revenue, while also balancing the customer service and guest experience aspect. And even beyond just collecting revenue, our front desk team no longer has to spend valuable time answering these parking garage calls. They have more time to focus on the guests in front of them and completing their front desk tasks. The return on investment is unparalleled.
The relationship we have with Parker Technology is collaborative and fruitful. Tammy Baker (customer service queen) is my main contact, but I interact with a lot of the day-to-day supervisors on her team, too. My team actively monitors call recordings via the Parker Platform. I always know our guests are in good hands, but we like to monitor just to make sure that our equipment is working properly and that everything is running smoothly.
I've seen firsthand what Parker Technology's customer service representatives deal with on a day-to-day basis, and they are kind and courteous on every single call, despite sometimes frustrating situations. If you've ever worked in customer service, you know how unreasonable customers can be. Parker's customer service representatives handle every situation with grace and poise, and they follow the instructions that we've laid out.
We also admire how they are able to use their own judgment in certain volatile situations. If I ever have any feedback, I always share with Tammy so she can coach the team. I also love to give shoutouts to the team and will often share with Tammy how much I admire how certain calls are handled.
It may sound sappy, but I really feel that the Parker Technology team is an extension of the team I manage here in the hotel. They are part of our family; they just happen to be stationed about 250 miles away. I don't know what we would do without them!
To learn more about Parker Technology, visit our solution page. To see our solution in action, schedule a demo.