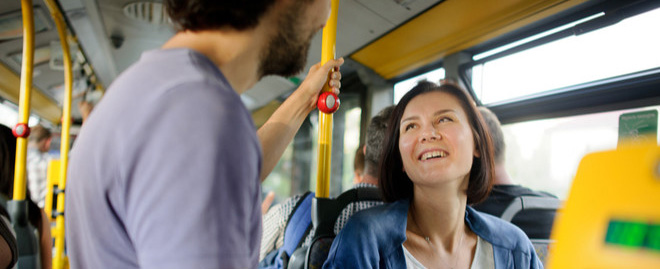 The other day I was on a train with my family, and as the next group of passengers embarked, I nudged my teenage son to move so that a kind woman, "much older" than him, could take a seat. The woman smiled and shared that she had just recently encouraged her daughter to do the same thing. With an exasperated expression, she shared that in that moment, her daughter failed to comply and said "Why? I'm never going to see them again." Interesting. It took 24 hours before I could connect the dots. Then it hit me.
Those in the parking industry are familiar with the type of customer called a "transient" parker. While monthly parking customers provide an enviable stream of consistent revenue for parking owners and operators, it's the transient parker that can make the difference between a good month and a GREAT month. It is these transient parkers that are just like the people we encounter on trains – they are transient encounters. However, here's the difference: a transient parker COULD come back again and very likely will come back and park in your facility, if you demonstrate that you truly care about their experience, especially when they encounter an issue and need your help. This is something that customer service experts are now calling "authentic concern."
Authentic concern is defined simply as a company genuinely demonstrating concern about you as a customer, as opposed to a fake or half-hearted interaction that leaves you feeling less than appreciated or valued. If your company is demonstrating authentic concern, your customer feels that they are more than just a number or a means to your end and that your declaration of wanting to deliver excellent customer service is much more than just words.
Now, let's put authentic concern to the test when a customer presses the "help" button at an automated kiosk in a parking garage. We know that 85 million times last year someone pressed the "help" button in a US-based-parking garage, and we also know that in many of those instances, that call for help landed on a desk phone in a garage office or on someone's cell phone. The ambassador tasked with answering the intercom was being interrupted, if they answered at all, and was not likely focused on delivering authentic concern to the customer. If a parking customer comes to your garage, experiences an issue and calls for help, only to experience an indifferent, impersonal and curt response, I think they'll file it away for future reference and try another garage the next time they need to park in that area. Your garage just failed the "authentic concern test" and your bottom line and reputation are worse because of it. The good news…it doesn't need to be that way. There are steps that can be taken to align your words with your deeds and to deliver authentic concern when your customers need it most.
If you'd like to genuinely deliver "authentic concern" for your parking customers that push the intercom button for help, send us a note, we'd love to help!